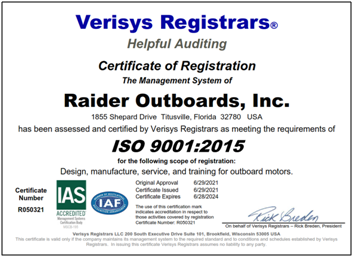 In June 2021 Raider Outboards, Inc. was presented with ISO 9001.
ISO 9001 is the world's best known and most popular quality management standard. Any organization can adopt it and achieve the prestigious certification.
ISO 9001 is a quality management standard that was introduced in 1987 and published the International Organization for Standardization. This standard has become an increasingly popular tool for businesses to improve their operations and increase their customer appeal. There are currently well over a million organizations in 190 countries certified to ISO 9001, spanning all sizes, sectors and industries. Raider Outboards, Inc. has set up an ISO quality management system to increase quality and customer satisfaction. ISO 9001 also improves other operational processes throughout the organization, leading to a wide range of benefits and efficiency gains and an excellent tool for general business improvement.
ISO 9001 means greater prestige and more opportunity to bid on projects, and a more satisfied workforce. Raider Outboards is continually audited for compliance.